The best period to climb the Rwenzori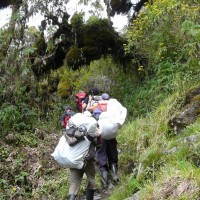 The best period to climb the Rwenzori
It is clear to all that the climatic seasons are changing characteristics in recent years, however it is still advisable to climb the Rwenzori especially during the dry seasons, between December and March, between June and July, between September and October. It is a notable point to remember as you plan to clim the rwenzori.
Are you ready for the rwenzori climbing/ rwenzori trekking?
The trekking and climbing of the Rwenzori, though technically not difficult for any trekker or alpinist, however has its great challenges. The trail is long and tiresome as it lasts up to 7 days. It requires endurance and physical fitness, at least some previous training. A part from this advice, the trekking does not require much of high tech equipment, just trekking boots and especially gumboots, since most of the trail is boggy (swampy areas). Only the last tract of the Margherita Peak climbing presents a glacier area and requires the use of rope and crampons. For the full list of the required equipment, please see the notes after the itinerary.