Rwenzori Mountains Climbing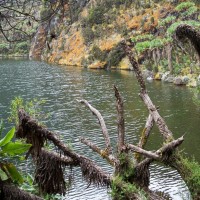 The Rwenzori Mountains are the biggest mountain range in Africa, including six main mountains with peaks exceeding 4.500 m. of altitude: Mt. Stanley, Mt. Speke, Mt. Baker, Mt. Gessi (in the Congolese side), Mt. Emin Pasha. Mt. Luigi di Savoia.
They are found along the border between Uganda and Congo for over 120 km. The highest peak is Margherita, 5.109 m. on Mt. Stanley. It is named after the Italian Queen Margherita, who sponsored the first climbing expedition of the Rwenzori in June 1906, led by Prince Luigi Amedeo of Savoy the Duke of Abruzzi. The name "Rwenzori" in the local language means "mountain of the rain", for its rainy nature.