Nyakalengija to Nyabitaba Rwenzori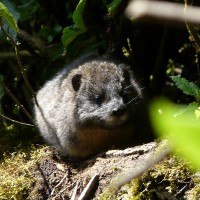 After breakfast proceed to the Rwenzori Mountains National Park head quarter in Nyakalenjija, 1615 m. You receive the briefing from the officials; you can hire equipment for the trekking as you wait for the preparation of luggage and porters.
The hike starts through the plantations and homes of the Bakonjo, the people of the Rwenzori. Follow the Mobuku river inside the mountain forest up to the first hut, Nyabitaba, 2.652 m which is the arrival point for the day. During the day you might see the black and white colobus, the blue monkeys or hearing the chimpanzees. Typical is the colourful Rwenzori Turaco. From Nyabitaba, you are facing on the North the Portal Peaks, 4.627 m, and in front Mount Kyniangoma. Dinner and overnight at Nyabitaba Hut. This day hike can take up to 4/5 hours.