HENRY OSMASTON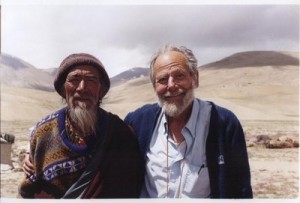 This page is dedicated to Henry Osmaston  (20 October 1922- 27 June 2006) for his strenuous work for the Rwenzori, in Uganda while working in the forestry then by publishing the first comprehensive Guide to the Rwenzori in 1972. He passed away after completing the revision of his Guide in 2006. Henry Osmaston and David Pasteur in 1992 founded the UK based Charity Rwenzori Trust which is still active with projects in education and conservation for the Rwenzori communities. We would like to remember Henry Osmaston with the words of tribute by Moses Mapesa, Executive Director of Uganda Wildlife Authority in 2006. For more information about Henry Osmaston you can visit his website: www.HenryOsmaston.co.uk. We thank Nigel Osmaston, who authorized us to use this material and to make it a public resource for all our readers and viewers. .
 Henry Osmaston: the passing of a Legend, by Moses Mapesa, 2006
Guide to the Rwenzori 2006, by Stephen Venables

Henry Osmaston:   The Passing of a Legend
Henry Arthur Osmaston has aptly been described as a forester, geographer and mountaineer by most of us who know about his works and his life. In Uganda he is well remembered, and forever will be, for his work in the Forest Department  where he worked from 1949-63. His biggest exploit though are his works in the Rwenzoris that were also named the "Mountains of the Moon"  and little wonder therefore that he passed away after fulfilling his great desire to revise the guidebook to the mountains, ahead of the commemorative centenary climb of June 2006, that I received on the same day as I got news of his demise.
Rwenzori mountains or the Mountains of the Moon for which Henry Osmaston did a lot of work is a very important conservation area to the local people of the area who refer to it as the "rain mountain" or "source of water" to the Ugandan people and all living in the Nile basin for its water catchment quality as well as to the international community who marvel at glaciers at the equator and the rich biodiversity. It is for those reasons that the mountain ecosystem that comprises of tropical forest, montane and alpine vegetation plus permanent ice was gazetted as a Forest Reserve and later in 1991 made a National Park and now enjoys the World Heritage Status as well.
We in Uganda came to know that forestry and a love of wild mountain country were Henry Osmaston's genetic inheritance. Having been born in the Himalayan hill station of Dehra India, where his father, Arthur Osmaston, was an officer in the Indian Forest Service and therefore Henry learnt a lot from him that became very useful and applicable in his working environment in Uganda.
Henry Osmaston first came to Uganda in 1949 together with his wife and for several years worked as District Forest Officer in Western Uganda where the Rwenzori forest reserve was under his charge. He climbed the mountain and explored the rich ecosystem so many times and kept very important records which were later to become valuable reference material for students and studies on the Rwenzori ecosystem and geography of which he was a lecturer. These records and notes culminated into the first ever comprehensive guidebook to the Rwenzori Mountains.
Henry left Uganda in 1963, soon after independence but his love for nature and the mountains remained unchanged indeed using his vast knowledge of the mountain published the first guidebook in 1972 and went ahead to create the Rwenzori Trust in 1992. While in Uganda he was an active member of the Rwenzori Mountain Club and became president of the club as well helping establish tourism infrastructure at the time that is still in use today. He had several friends and workmates and maintained contact with them.
Henry returned to Uganda in 1996 to make a keynote address to the Makerere Scientific Conference on the Rwenzoris. This visit and the conference was made possible through the Trust that Henry helped establish in line with the Trust's objectives of;
1.      Supporting training, equipment or buildings for scientific research or environmental conservation on Uganda mountains
2.      Supporting training, equipment or buildings for the advancement of education in mountaineering in Uganda by Ugandans.
As a geographer he had two paramount qualities. One was his love of real, physical, hands-on fieldwork, preferably in mountain environments; the other was the astonishing breadth of his interests, all backed up by copious, meticulous research.
Perhaps Henry's works and love for Uganda can better be understood from his own expressions on conservation work and the people he worked with and I quote below:
On the working environment he had this to say: "I had clear professional aims and sufficient independence to put them into practice. My colleagues, both British and African, were congenial and mostly were highly motivated. My family enjoyed life there as much as I did. What more could I ask?"
On the local peoples needs and the national interests he said: "It had been established from the beginning that the interests of the inhabitants were paramount." In the specific area of forestry, by 1960 all the major areas of natural forests were protected for water catchment or timber production; further softwood plantations were created to cater for increased demand.
Henry returned again to Uganda in 2005, this time to collect fresh data to enable him revise his splendid guide to the Rwenzoris which he wonderfully achieved before passing away. The guide which is more than a guide contains a lot of information on the history, mythology, zoology, botany and glaciology of the region, rendering it a very user friendly reference book for students, lectures, tourists and anybody interested in natural history. The changing environment over the last 100years of the mountains is elaborately described with the aim of informing decision makers and scientists alike.
As a beneficiary of Henry's works first as a student and later as a conservationist and now as Head of Uganda Wildlife Authority I was privileged to meet the renowned conservationist, scholar and teacher in 2005 and was instantly humbled by his ways and sucked intro his complex network of friends. He ensured I got a personal copy of his last major work that I have inevitably read from cover to cover.
True to his style, Henry dedicated the guide not only to his dear wife with whom he shared many arduous journeys in the Rwenzoris but also to his Bakonzo companions whom he acknowledges that without he would not have made all those journeys and goes ahead to name a few them as Y. Bakurisoni, P.Musoke, Azeroni, Zedekiya Bagenyi and John Matte.
When I went to do the commemorative climb of the Rwenzoris marking 100 years of the Abruzzi expedition, many local people in Kasese, Uganda asked me about Henry to whom I responded he was strong and alive, yet sadly it would only be 2 weeks later before he passed away. Till his death he was a Honorary Wildlife Officer and therefore a UWA staff. Henry died on June 27, 2006 aged 84.
Moses Mapesa Wafula,
Executive Director Uganda Wildlife Authority in 2006
(First appeared on http://www.henryosmaston.co.uk/articles/mapesa.htm )
The Rwenzori Trust
The Rwenzori Trust is a UK registered charity founded in 1992 by Henry Osmaston and David Pasteur, to which they transferred the intellectual property rights of the Guide to the Rwenzori.
The trust was established for the purpose of advancing education in Uganda for the public benefit. This purpose includes, but is not limited to, supporting training, research and conservation on Ugandan mountains.
In 2008 the charity started The Child Sponsorship Project started in January 2008. They support 36 children per year and the focus remains secondary education up to GSCE level equivalent.
In December 2010 5 children were taking vocational courses, 7 children completed the first year of A-levels (Senior 5) and the
remaining 25 beneficiaries are in secondary schools studying for GCSE-equivalents.
Tthirty per cent of the money that we raise is used to fund local community projects (the "community pot") and also pay local expenses. We keep local expenses to a minimum. As the Trust says in their website: "you can be confident that your money is working hard and not being swallowed up in middle-man administration, and that's the beauty of our small-scale charity!".
More information available at the following website: http://rwenzoritrust.org/index.html

Guide to the Rwenzori 2006, by Stephen Venables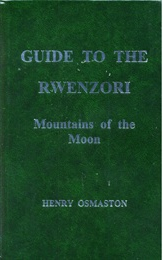 The last great project of Henry Osmaston, completed just two weeks before he died, was a comprehensive revision of the definitive guidebook to the Rwenzori which he first published with David Pasteur in 1972. Both the book and the manner in which it was compiled were typical of the man. Although ostensibly a climbing guide, it is actually packed with fascinating information on the history, mythology, zoology, botany and glaciology of the region, reflecting Henry's abundant enthusiasms. The recent, drastic acceleration of glacial melting is recorded meticulously and a wealth of new colour photos have been added to the original monochrome collection. Assembling all this new material, as with all his other publications, Henry was tireless (and, when you were trying to cook supper, sometimes tiresome) in badgering climbers, photographers, explorers and scientists all over the world, by telephone, by post and by email. His global network of friends and colleagues was as huge and varied as his range of interests. He loved life and pursued his interests right to the end, still as fascinated by the world as he had been as a child, when he asked his mahout to get the elephant he was riding to pick him interesting flowers and fruits.
Forester, lecturer in Geography and mountaineer Survived by his wife, Anna Weir (married 1948); three daughters – Amiel, Janet, & Charlotte; one son – Nigel; and nine grandchildren.
Member of the Himalayan Club from 1990.
STEPHEN VENABLES
Stephen Venables, mountaineer, writer, broadcaster and public speaker, was the first Briton to climb Everest without supplementary oxygen. He reached the summit alone, after climbing with a small American-Canadian team, by a new route up the gigantic Kangshung Face.
Everest was a thrilling highlight in a career which has taken Stephen right through the Himalaya, from Afghanistan to Tibet, making first ascents of many previously unknown mountains. His adventures have also taken him to the Rockies, the Andes, the Antarctic island South Georgia, East Africa, South Africa and of course the European Alps, where he has climbed and skied for over forty years (taken from: http://www.stephenvenables.com/about.asp )
Book / this Tour / Safari
Inquire on the tariffs and departures.