Guy Yeoman Hut back to Nyakalengija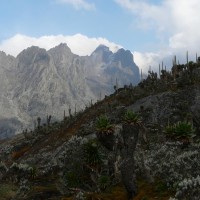 From Guy Yeoman final descent to Nyakalenjija, which might take about 7 hours walk. Otherwise, you can decide to spend another night in Nyabitaba Hut. The trekking follows the Mubuku and Kichuchu rivers, with all the plants of the heather zone before reaching the bamboo forest. Kabamba falls are seen on the way. From Nyabitaba Hut starts the short trekking to see Lake Mahoma.
As you arrive down in Nyakalenjija we shall transfer you back to the hotel in Ibanda or, according to the time, in Fort Portal.