Huts of the Rwenzori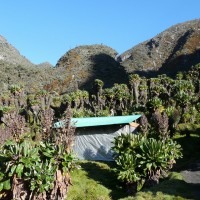 From Elena Hut you ascend the last tract of rock and ice which leads to Margherita Peak on Mount Stanley, 5.109 m. You might take about 3 -4 hours to complete the climbing. You need crampons, ice axe and rope as you walk through what remains of the glacier area of Mount Stanley. The peak was first climbed by Prince Luigi Amedeo the Duke of Abruzzi at 9.30 am on 18th June 1906.
The trail descends down to Upper Kitandara Lake and Lower Kitandara Lake, where is located Kitandara Hut, 4.023 m. arrival point for the day. It can take approximately 3 hours walk. This is the best place for planning the ascent of Mount Luigi di Savoia and Mount Baker.
Hiking time: 6 hours – Habitat: glacier / alpine zone – Altitude level: – 1554 m.