Stage 4: From Bujuku Hut to Elena Hut, 4.430 m.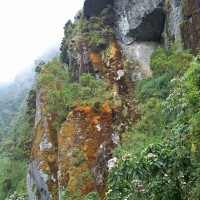 From Bujuku Hut, after a muddy area, you start a steep climbing through a forest of giant groundsels up to the Groundsel Gully. A branch in the trail leads to Elena Hut, 4.430 m, arrival point for the ones who intend to climb Margherita Peak. If you are only taking the central circuit, then the trail proceeds directly to Kitandara Hut. You walk through Scott Elliot Pass, 4.372 m., the highest point during the central circuit, where you can enjoy stunning panoramic views down the Bujuku valley, of Mount Baker, Mount Luigi di Savoia and Stanley just above. This is a steep, rocky trail which when is wet or icy can be very slippery.
After dinner, you rest at Elena Hut before ascending in the early morning before sunrise.
Hiking time: 3- 4 hours – Habitat: alpine zone – Altitude level: 468 m.