Bamboo forest and groundsel zone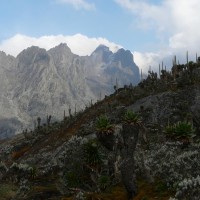 From Nyabitaba Hut take the trail that leads westwards to the Kurt Shaffer Bridge, which crosses the Mubuku river just below its confluence with Bujuku river. Here is where the proper "central circuit" starts, and you will take the right side (while you will descend from the left side). The vegetation zone is now the bamboo forest. You reach up to a steep rock which leads to Nyamuleju Hut, the beginning of the groundsel zone. Follow a swampy bog full of extraordinary plants and giant lobelias. The arrival point for the day is John Matte Hut, 3.505 m. where you have dinner and overnight. From this location you can enjoy for the first time the view of the snow capped peaks of Mount Stanley.
Hiking time: 6 hours – Habitat: bamboo forest and groundsel zone – Altitude level: 762m.